WELCOME TO SUPER FLAVOR!
BUY EXTRA VIRGIN OLIVE OIL ONLINE FROM THE LAST HARVEST AND NEWLY PACKED FOR PRESERVE ITS FRESHNESS
BUY ONLINE
HONEST CHARACTER
Fresh, unripe and with a hint of bitterness and spiciness.
SHIPPING TO EUROPE
Packed at oil press and delivered to Europe.
DISCOUNTS
Save up to 10% ordering with relatives, neighbours …
100% GUARANTEE
If you are not convinced, you return it and that's it.
WHY TO BUY OLIVE OIL ONLINE?
THE SHOPPING EXPERIENCE ON THIS WEBSITE IS EASY, SAFE AND CONFORTABLE. YOU'RE GOING TO BUY THE BEST QUALITY EXTRA VIRGIN OLIVE OIL DIRECTLY FROM THE SPANISH OLIVE GROVE WITH SATISFACTION GUARANTEED.
We have been ordering organic olive oil for us and our children from Germany for 3 years. It is a very special, delicious and healthy oil.
Every year we receive it in perfect condition without any problems.
For Ricardo there are no problems, he always finds solutions.
Thank you very much for your good service and your great work, we are very grateful to you.
Best regards.
Maria and family
After searching for "buy olive oil online" with the possibility to order it from abroad and with all the very positive feedback from customers, I decided to buy this one and… we love it ! My son spreads a couple of slices of toast with a little garlic for breakfast before going off to uni, we use it for salads as well as for our daily stews and I even converted family friends so we all got it per litre with a delivery to France at only one euro more. I was also delighted with the service, it didn't even take a week for my 30 litre order to arrive and thanks to Ricardo for the very friendly contact I had by email.
I have bought and tasted extra virgin and unfiltered olive oil and they are wonderful. With a slightly bitter taste and an itch that disappears in a few seconds. I have tasted them with a piece of bread and also a spoonful to feel their properties.
Now I want to try them in my favourite dishes and raw on vegetables.
I will surely buy them again and with me and my brothers and colleagues.
Excuse my Spanish :-)
Alessandro
Rovato – Italy
As always I was really sure of the quality of your olive oils, last year I ordered the traditional one (which is superior) and the unfiltered one (what a fresh, spicy, intense flavour… delicious!).
This year as the unfiltered was not yet available apart from the traditional one I ordered the Organic, I have not regretted it, it is also delicious, for my palate…a little softer but also very good, I can only recommend it.
Lots of hugs and see you soon friends
Margarita Canelada Sanchez
Pd:(from Germany)
We live in Austria and this is the second time we have ordered olive oil. It is an excellent tasting oil and can be used not only for cooking but also for salads. We ordered it for a group of 20 friends and colleagues and they are all more than delighted. In addition, Ricardo is very reliable and pleasant to deal with, and the international shipping works like a charm: fast and the goods are impeccable. Thank you for adding extra quality to our meals and our health.
Great…I order it from the UK and it takes no time at all to arrive.
THE BEST OLIVE OIL IN THE WORLD, if we compare quality, price, type of production and ecological area, you will be immersed in one of the best, although unknown, olive oils in the world, which is why the Italians rate it 5/5 among their favourites. Recommended and produced under sustainable agriculture.
COLD-PRESSED EXTRA VIRGIN OLIVE OIL FROM HAND-PICKED PICUAL OLIVES IN THE SIERRA MAGINA MOUNTAIN RANGE OF ANDALUSIA
The Sierra Magina is reknown for having the highest olive groves in Andalusia and all of Spain which gives this olive oil its distinct and unique flavor. A true extra virgin olive oil cold-pressed and newly packed.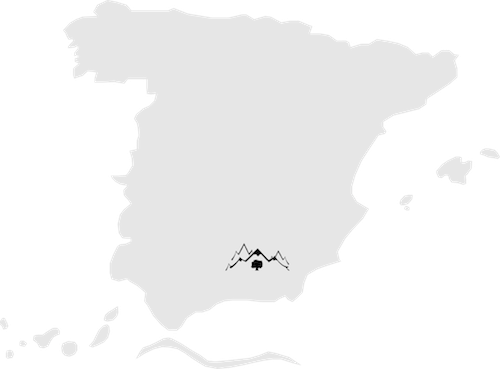 Olive oil Made in Spain by small farmers
Most of our olive trees are more than a hundred years old and harvested by traditional way in a high-mountain natual enviroment. Thus, the production costs are somewhat higher, but it's worth it for the true taste of its EVOO.
Olive oil born in the mountains of Andalusia
Our olive mill is located in the highest olive grove of Jaén, near Granada and Sierra Nevada, where the weather reduces production and concentrates flavors. A true picual extra virgin olive oil, very fresh, unripe and lovely bitter and spicy due to its high content of polyphenols and natural antioxidants such as vitamin E, hydroxytyrosol, oleocanthal …
Olive oil, culture and health
All extra virgin olive oils are not the same. Weather, enviroment, kind of harvest, ripeness of olives or process extraction mark their quality, flavor and healthy properties. We share on this website, a lot of information and original content such as our Free E-Book and the Olive Oil Test… You'll know what you buy and what you eat!
FAQs WHEN BUYING OLIVE OIL
We've been writing on the blog for more than 10 years, rigorous and transparent information to become an enlightened consumer of extra virgin olive oil. There we show FAQs from people who reveal the key issues when buying olive oil …
Let's review some questions about unfiltered olive oil and how it differs from filtered olive oil,...
"Because all extra virgin olive oils are NOT the same"
ENTER THE OLIVE OIL BLOG >>
SUBSCRIBE TO THE CULTURE OF EXTRA VIRGIN OLIVE OIL