Extra Virgin Olive Oil from the High Mountain
Cold-pressed and direct from our olive grove in the Sierra Mágina
EXTRA VIRGIN OLIVE OIL COLD-PRESSED FROM PICUAL OLIVES HARVESTED BY HAND AMID THE MOUNTAINS OF THE SIERRA MÁGINA
The Sierra Mágina is recognised for having the highest olive groves in Andalucía and in all of Spain, which gives our olive oil a unique flavour and a character of its own. It is a superior quality cold-pressed extra virgin olive oil and it is recently bottled to preserve its freshness.
BUY ONLINE
SMALL FARMERS
Fresh and unripe with a hint of bitterness and spiciness.
DIRECTLY TO CONSUMER
Bottled at the olive press and shipped throughout Europe.
DISCOUNTS
Save up to 10% by ordering with family members, neighbours, colleagues…
100% GUARANTEED
If its not suitable, return it, and that's that.
WHY BUY OLIVE OIL ONLINE?
THE EXPERIENCE OF SHOPPING ON THE WEBSITE IS EASY, SAFE AND CONVENIENT. YOU BUY THE HIGHEST QUALITY EXTRA VIRGIN OLIVE OIL DIRECT FROM THE OLIVE GROVE TO THE CONSUMER WITH A SATISFACTION GUARANTEE.
We have been ordering organic olive oil for 3 years for ourselves and our children in Germany. This is a special oil, delicious as well as very healthy. We receive it in perfect condition and without any problem every year. Nothing is a problem for Ricardo, he always finds a solution. Many thanks for your excellent service and your wonderful work, we are very grateful to you. Regards. Maria and family
I have bought and tried extra virgin olive oil and unfiltered, they are marvellous. With a slightly bitter taste and a spiciness that disappears in a few seconds. I have tasted them with a piece of bread and with a spoon to distinguish their properties. Now I want to try them in my favourite dishes and raw over vegetables. I expect to buy them once again along with my brothers and colleagues…
After searching for "sale of olive oil online", with the ability to order it from abroad and all the very positive appraisals provided by the customers, I decided to buy this one and… we love it! My son spreads it on a couple of toasts with a sliver of garlic for breakfast before going to uni, we use it for our salads as much as we do for daily cooking, and I have even converted family friends so between us all, with shipping to France, it costs us just one euro more per litre. Also delighted with the service, my 30 ltr order doesn't even take a week to get here, and thanks to Ricardo for the very pleasant emails I received.
Perfect! Full of flavour! And it got to us in Belgium very quickly.
I have lived in France for over 5 years. I'm tired of buying olive oils from Italian brands (in reality it was Spanish oil sold by Italians) and paying a very good price, so I decided to do an internet search for Spanish oil that would come directly to me without passing through any intermediaries. And that's how I learned about directo del olivar. The oil is the kind that I like, a bit strong, with that characteristic spiciness that you get from the picual olive. So for a very slightly higher price than the Italian ones, I now have a good quality Spanish oil at home. What more could I ask for?? Ah, yes! I nearly forgot! Shipping is quite fast, an excellent service. Thank you Ricardo!
Really good…I ordered it from the UK and it took no time to get here.
WELC@ME TO THE SUPER FLAVOUR!
BUY EXTRA VIRGIN OLIVE OIL ONLINE FROM OUR LATEST HARVEST WHICH HAS BEEN RECENTLY BOTTLED TO GUARANTEE ITS FRESHNESS. With fast shipping to IRELAND, UK, FRANCE, THE NETHERLANDS, BELGIUM, GERMANY, AUSTRIA and the rest of Europe…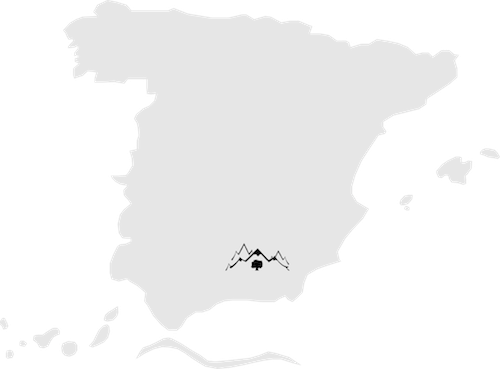 Olive oil Made in Spain by small farmers
The majority of our olive trees are centenarians and they are cultivated using traditional methods in natural mountain settings with steep slopes. This makes production costs somewhat higher, but worthwhile because of the more authentic flavour of their EVOO.
Olive oil from the high mountain
Our olive grove is located at the highest altitude in the province of Jaén, some 70 km from Granada and the Sierra Nevada, and where our extreme climate reduces the quantity produced and concentrates the flavours. In this way, we produce an authentic and very fresh picual extra virgin olive oil, with green fruit that is deliciously bitter and spicy due to its high content of polyphenols and natural antioxidants, such as vitamin E, hydroxytyrosol, oleocanthal…
Olive oil, culture and health
Not all extra virgin olive oils are the same. The climate, the surroundings, the type of cultivation, the maturity of the olives and the extraction process can determine its quality, flavour and health properties. On this website, we share a lot of exclusive information and content, such as our Guide to Olive Oil [FREE E-BOOK] and the Olive Oil Test… You will know what you buy and what you eat!
FAQs WHEN BUYING OLIVE OIL
We have been creating and sharing original content on our blog for over 10 years; accurate and transparent information for becoming a knowledgeable consumer of extra virgin olive oil. Below, you will find the most frequently asked questions (and answers) by our consumers, which reveal the key elements to look out for when buying olive oil…
Taking a spoonful of olive oil on an empty stomach has been a "home remedy" applied by many of our...
"Because all extra virgin olive oils are NOT the same"
SUBSCRIBE TO THE CULTURE OF EXTRA VIRGIN OLIVE OIL