Description
NEW HARVEST!!! TRADITIONAL PICUAL EXTRA VIRGIN OLIVE OIL FRESHLY BOTTLED IN 5 LITRES AND OTHER SIZES TO CHOOSE FROM. BOTH FILTERED AND UNFILTERED ARE AVAILABLE. Honest, fresh, unripe character with a deliciously bitter and spicy hint.
OLIVE OIL IN 5 LITRE AND OTHER SIZES
Although the preferred format for our TRADITIONAL PICUAL Extra Virgin Olive Oil is the 5-litre plastic (pet) bottle, we also pack it in 2.5-litre tins and 500ml glass bottles with non-refillable stoppers. All our packaging is BISPHENOL A (BPA) free. You can select the format that best suits your needs above next to the checkout button. If you want to combine our different types of EVOO (TRADITIONAL, UNFILTERED, ORGANIC), please see our olive oil gift & tasting sets.
EXTRA VIRGIN OLIVE OIL 5 LITRES FOR COOKING
The filtered extra virgin olive oil is free of impurities, so it can be used both raw and for cooking. A "splash" of this juice gives a great taste with a natural hint of bitterness and spiciness that awakens the senses. When used in stir-fries, fried foods and stews, it is an olive oil that "grows" and its high density means that it does not penetrate the food as much as other vegetable oils and fats, so it protects the properties of the food better and transmits fewer calories. It also has a high content of oleic acid and natural antioxidants (vitamin E, oleocanthal, etc.), which gives it greater stability and resistance to high temperatures, producing less smoke and cooking food in a healthier way. For this reason, when using olive oil for frying, we recommend not to exceed 180 ºC.
CONSERVATION AND SHELF LIFE OF EXTRA VIRGIN OLIVE OIL 5 LITRES
Extra virgin olive oil is a natural juice, without additives, preservatives or colouring agents. The best before date of consumption of our filtered extra virgin olive oil in 5 litres is 12 to 18 months from the date of bottling in our mill, although if well preserved it can last longer in perfect conditions. For optimum conservation, we recommend keeping it in a cool place (18 to 25 ºC) and away from light (especially sunlight). For example, in a cupboard in your kitchen or storage room, it will keep perfectly and maintain all its properties for many months.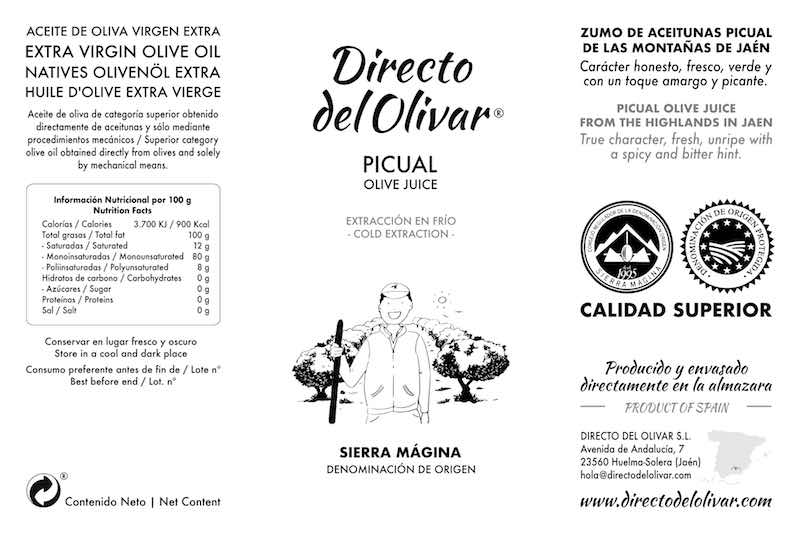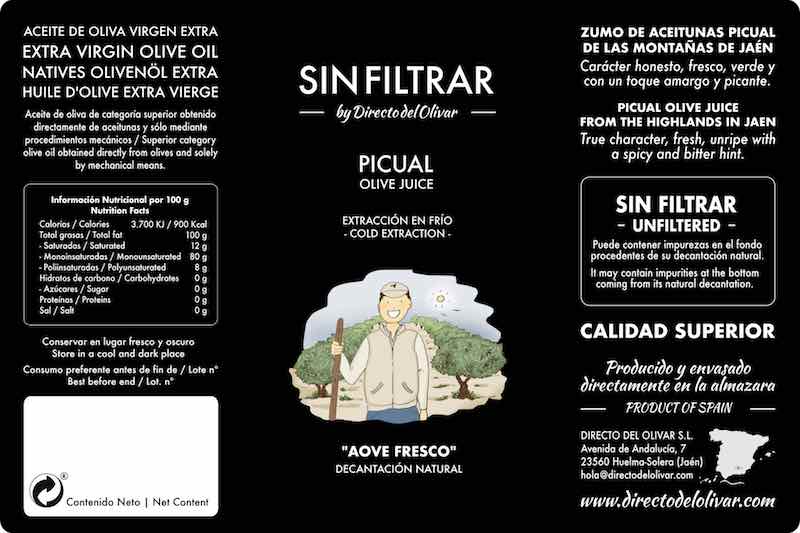 EXTRA VIRGIN OLIVE OIL WITH CERTIFIED QUALITY AND ORIGIN
All our olive trees are exclusively owned by small farmers and are located in a natural high mountain environment in the highest area of the region of Jaén. HIGHER QUALITY certified by the exclusive and award winning Sierra Mágina Denomination of Origin, with the most demanding quality standards in the world.
EXTRA VIRGIN OLIVE OIL WITH MORE FLAVOUR AND NATURAL ANTIOXIDANTS
Extra virgin olive oil freshly bottled and always from the latest harvest. Obtained by mechanical means from high mountain picual olives harvested in the traditional way and cold-pressed at less than 27ºC. Most of our olive trees are centenary, dry-farmed and planted at high altitudes (even above 1,200 metres), which results in a juice with a higher concentration of oleic acid, polyphenols and natural antioxidants beneficial to health, and which are responsible for its delicious, slightly bitter and spicy flavour.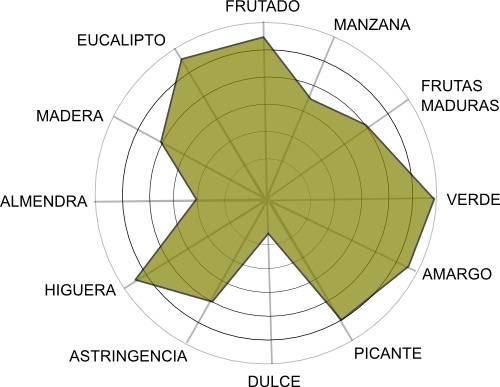 TASTING NOTES AND ANALYSIS OF TRADITIONAL EXTRA VIRGIN OLIVE OIL
Our extra virgin olive oil has a SUPERIOR QUALITY. It has exceptional physical-chemical and organoleptic parameters, as certified by the analyses carried out by independent technicians…
| | |
| --- | --- |
| Physical-Chemical Analysis | Organoleptic Analysis |
| Acidity = 0,17% | Fruity = 4,5 |
| Peroxide Value = 3,93 mEquO2/kg | Bitter = 4,7 |
| K270 = 0,17% | Spicy = 4,5 |
Download (pdf in Spanish): Análisis multirresiduos 2020/2021
TRADITIONAL EXTRA VIRGIN OLIVE OIL DATA SHEET
TYPE: Extra virgin olive oil of superior category, obtained directly from olives and only by mechanical means. VARIETY : Picual REGION | Sierra Mágina (Jaén) – Andalusia. ALTITUDE | 1.000 to 1.200 metres. TYPE OF FARMING: Mostly in dry land. HARVESTING PERIOD | November. HARVESTING SYSTEM : Manual harvesting with shaking and mechanical help. EXTRACTION SYSTEM | Continuous system of first extraction at less than 27ºC. STORAGE | Stainless steel tanks. AROMA AND FLAVOUR | Green herb with a powerful flavour, somewhat spicy and bitter. FOOD PAIRING | Toast, bread, salads, rice, pasta, fresh fish and all types of raw or semi-raw cuisine. ACIDITY | <0,2º CERTIFICATES | Regulatory Council of the Sierra Mágina Denomination of Origin. PACKAGING | From December onwards. BEST BEFORE | One year after packaging. HEALTH REGISTRATION: R.G.S.E.A.A. 160000808/J. NUTRITIONAL INFORMATION PER 100g | Calories 3.700KJ / 900 Kcal. Total fat 100 g (saturated 12 g). Carbohydrate 0 g (sugars 0 g). Protein 0 g. Salt 0 g. ® "DIRECTO DEL OLIVAR" IS A REGISTERED TRADEMARK SOLD EXCLUSIVELY ON DIRECTODELOLIVAR.COM. THANK YOU FOR YOUR TRUST.