Description
COLD-PRESSED ORGANIC OLIVE OIL
LATEST HARVEST!!! ORGANIC EXTRA VIRGIN OLIVE OIL COLD PRESSED FROM HIGH-MOUNTAIN PICUAL OLIVES. CAAE CERTIFIED AND SIERRA MAGINA QUALIFIED DESIGNATION OF ORIGIN. NATURALLY FILTERED TO GUARANTEE ITS PURITY AND FRESHLY BOTTLED IN 5 LITRES AND OTHER SIZES TO CHOOSE FROM. FILTERED OR UNFILTERED (EARLY HARVEST).
Organic olive oil from 100% certified organic crop, in which no pesticides or chemical products are used, maintaining absolute respect for the environment and nature. This makes cultivation more difficult and reduces production considerably, making it more expensive, but gives rise to a pure ORGANIC OLIVE OIL with the CAAE certification seal of the European Union. Organic olive oil cold pressed at less than 27ºC, with a very low acidity of less than 0.3% and a slightly bitter and spicy flavour due to its high content of polyphenols and natural antioxidants. For this reason, it is an ideal organic olive oil for the most demanding consumers, both for cooking and for raw use: toast, salads, pasta, rice, fried foods, stews, etc.
ORGANIC OLIVE OIL 5 LITRES AND OTHER SIZES
We pack our organic olive oil in 5 litres pet plastic, tin and glass, all of them BISPHENOL A (BPA) free. You can select the size that best suits your needs next to the purchase button. You can also combine FILTERED organic extra virgin olive oil with UNFILTERED early harvest organic olive oil, or with the other types of olive oil with our olive oil GIFT & TASTING SET.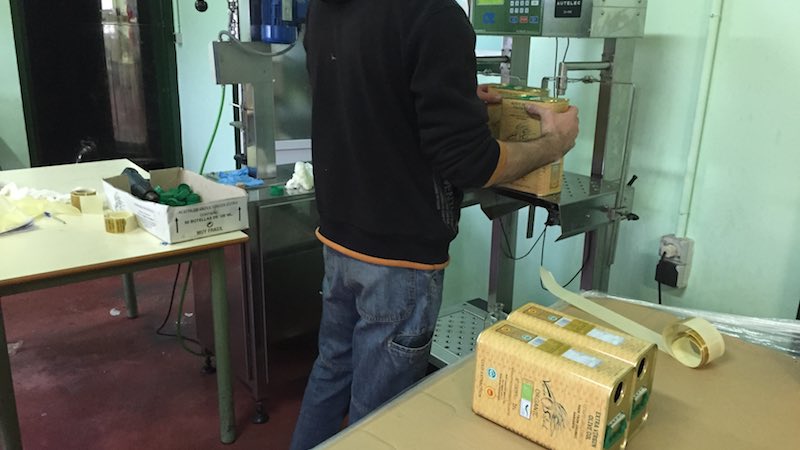 ORGANIC OLIVE OIL WITH ORIGIN AND QUALITY CERTIFIED
Organic olive oil of HIGHER QUALITY with Denomination of Origin Sierra Mágina, the Regulatory Council with the most demanding quality standards in the world. We detail all the analyses and certificates available…
| | |
| --- | --- |
| Physical-Chemical Analysis | Organoleptic Analysis |
| Acidity = 0,15% | Fruity = 5,6 |
| Peroxide Value = 6,22 mEquO2/kg | Bitter = 5,2 |
| K270 = 0,17% | Spicy = 4,6 |
BENEFITS OF ORGANIC EXTRA VIRGIN OLIVE OIL
Organic extra virgin olive oil is 100% free of chemical residues in its composition. Therefore, we are talking about an organic olive oil, beneficial for health and more respectful with the environment. This is the first determining point when deciding whether to buy organic olive oil.
By consuming organic olive oil, we ensure a much greener future for ourselves and for those who come after us :-)
ORGANIC OLIVE OIL FOR INTOLERANCES
Organic extra virgin olive oil is recommended for people with a "bio" lifestyle or who even have some kind of intolerance. For this reason, during the cultivation of our olive groves only natural methods and organic products are used to combat pests and diseases, which inevitably increases the price of organic olive oil compared to traditionally cultivated olive oil.
ORGANIC OLIVE OIL WITH EUROPEAN CERTIFICATION
In Europe, for a product to be sold as "ecological, bio or organic", it must go through a process of official control and certification. In Spain, the competences for the certification of products from organic agriculture are transferred to the regional governments, which, through the corresponding control agencies, define the set of production standards for farming, storage, processing, packaging and distribution, such as:
Genetically modified organisms and synthetic chemical elements such as fertilisers, pesticides, antibiotics or additives cannot be used.
No cultivation on soils that have been exposed to these agents for at least the last 3 years.
No physical space may be shared with conventional products during cultivation, storage, processing and packaging.
Regular on-site inspections must be carried out.
…
Specifically in Andalusia, the official organic certification agencies are private companies that have been transferred these competences by the Regional Government of Andalusia. In this sense, it is compulsory for all certified products to have the organic stamp duly printed on the label, but it is well known that paper can take anything, so the only way to be 100% sure that a product has the official organic certification is to ask the producer for the corresponding official document.
ORGANIC OLIVE OIL PRODUCTION PROCESS
The continuous process consists essentially of preliminary cleaning and washing of the olives in the mill's courtyard, where the leaves, stalks and earth that accompany the fruit are removed. The olives are then crushed in hammer mills, always in less than 24 hours from the reception of the olives, which allows us to obtain an organic olive oil of the highest quality. The paste obtained is passed to a blender where it is subjected, for approximately 1 to 1.5 hours, to a beating process that facilitates the coalescence of the oil at a temperature of approximately 23 ºC (COLD EXTRACTION). At this point, the oily phase (oil) is separated from the aqueous and solid phases in horizontal centrifuges. The small quantities of water and solids that may accompany the oil are separated in vertical centrifuges, and from here it is taken to storage tanks until it is filtered and packaged.
CROP AREA OF ORGANIC OLIVE OIL
The base of the crop is located within the Sierra Mágina Designation of Origin, in and around the Natural Park, mainly in the municipalities of Cambil, Huelma, Pegalajar and La Guardia, where the olive trees are mostly centuries old and located in mountainous areas between 650 and 1 500 metres above sea level. This area belongs to the region of Jaén on the border with the province of Granada, where the traditional single-crop olive grove has been cultivated since time immemorial as the mainstay of the economy in our rural environment.
CULTIVATION OF ORGANIC OLIVE GROVES
Within the organic olive oil cooperative there are internal rules that self-regulate the farming, harvesting, classification of the olives, transport, reception or unloading, cleaning and washing, classification in hoppers, milling, piping and storage in the cellar. Cultivation is carried out with technical advice on the application of organic matter and natural fertilisers, with little tillage and plant cover. It is a requirement of the cooperative that the members cultivate all of their plots using the organic system and that they are controlled by the CAAE (Andalusian Committee of Organic Agriculture). The application of any chemical product by any member will result in immediate expulsion from the cooperative and the request for financial responsibility, if any. The co-operative carries out the flagging of the plots to prevent conventional aerial treatments from being carried out, and manages advice and pest control in a natural way.
ORGANIC OLIVE OIL AND THE ENVIRONMENT
The implementation of this project, by eliminating the use of synthetic chemical products, has meant a radical change fundamentally in two aspects:
The creation of an awareness of care for the environment and the natural surroundings, leading to a greater dedication to agricultural tasks that guarantees the permanence of the population in the rural environment.
The proliferation and increase of fauna and flora, creating a natural balance, as well as obtaining a natural product compatible with health and quality in human nutrition.
ORGANIC OLIVE OIL TECHNICAL DATA SHEET
TYPE | EXTRA VIRGIN olive oil of superior category, obtained directly from olives and only by mechanical procedures. VARIETY | Picual REGION | Sierra Mágina (Jaén) – Andalusia. PRODUCTION AREA | Municipalities of Cambil and Huelma mainly. ALTITUDE | 800 to 1.000 metres. TYPE OF CROP | Irrigated without application of chemical products. HARVESTING PERIOD | November. HARVESTING SYSTEM | Manual harvesting with mechanical help. EXTRACTION SYSTEM | Continuous system of first pressing at less than 23ºC. STORAGE | Stainless steel tanks. AROMA AND FLAVOUR | Very aromatic, harmonious and balanced. Medium fruity of green olives, with a slight taste of grass, leaves, alloza and apple. Slightly spicy, bitter and astringent. FOOD PAIRINGS | Raw and fried food. ACIDITY | <0,2% CERTIFICATES | Regulatory Council of the Sierra Mágina Denomination of Origin. PACKAGING | From December onwards. PREFERRED CONSUMPTION DATE | One year after packaging. HEALTH REGISTRATION: 160003186/J. CAAE REGISTRATION | 003347/I NUTRITIONAL INFORMATION PER 100g | Calories 3.700KJ / 900 Kcal. Total fat 100 g (saturated 12 g). Carbohydrates 0 g (sugars 0 g). Protein 0 g. Salt 0 g. ® VERDE SALUD IS A REGISTERED TRADEMARK OF OUR COOPERATIVE S.C.A. TRUJAL DE MÁGINA. THANK YOU FOR YOUR TRUST.