Description
EXTRA VIRGIN OLIVE OIL COLD-PRESSED FROM GREEN OLIVES HARVESTED IN OCTOBER DURING THE FIRST DAYS OF HARVESTING IN OUR HIGH MOUNTAIN ORGANIC OLIVE GROVE. FRESHLY PACKAGED UNFILTERED AND FILTERED.
EARLY HARVESTED PREMIUM EXTRA VIRGIN OLIVE OIL, WHAT IS IT AND HOW IS IT MADE?
We bring forward the start of the harvest by a couple of weeks in our high mountain organic olive grove to obtain a cold-pressed GREENER EXTRA VIRGIN OLIVE OIL. A true "early harvest" PREMIUM oil with a higher fruitiness, bitterness and pungency. Normally, the early harvest starts from the beginning of October in the hills and countryside areas (below 600 metres above sea level), until the end of October or the beginning of November in the mountain areas, where the fruit ripens more slowly due to the colder climate. At that time, the olives have not yet reached their peak of ripeness, most of them are still green and some are beginning to turn black on the outside, known as 'veraison'.
GREENER OLIVE OIL
Normally, early harvest premium extra virgin olive oil has a more intense green colour, but it is important to know that the colour is not a mark of quality and depends greatly on the type of light.
The "green" surname of olive oil has more to do with its fruitiness and taste: more intense, aromatic, bitter and spicy. Once the juice has been filtered, any traces of moisture are removed and it usually introduces a more intense and brighter green colour.
Price of premium early harvest olive oil
Early harvest premium olive oil is a special and genuine product, and the cold extraction of unripe olives is more complex and costly. Firstly, as the olives ripen, they are better released from the branches and less labour is needed. Secondly, when the olives are harvested when ripe, their flesh is much softer and it is much easier to extract cold-pressed olive oil.
MORE QUALITY AND LESS QUANTITY! To produce one litre of normal olive oil we need about 4 kilos of olives (25% yield), whereas to produce a litre of good early harvest premium extra virgin olive oil we need at least 12 kilos of unripe olives (8% yield). Logically, this makes the production process more expensive and means that early harvest premium olive oil is sold at a higher price than traditional extra virgin olive oil.
TASTING NOTES AND ANALYSIS OF THE EARLY HARVEST PREMIUM OLIVE OIL
Early Harvest Premium Extra Virgin Olive Oil is cold pressed from ORGANIC GREENER OLIVES and has a very low acidity (<0.20%). It has a more intense green colour, more fruity, slightly more bitter in the mouth and slightly spicier in the throat. Below you can see the exceptional physico-chemical and organoleptic parameters of the early harvest premium olive oil and download its official analysis…
| | |
| --- | --- |
| Physico-Chemical Analisys | Organoleptic Analisys |
| Acidity = 0,17% | Fruity = 5,4 |
| Peroxyde Value = 5,25 mEquO2/kg | Bitter = 4,9 |
| K270 = 0,16% | Spicy = 5,0 |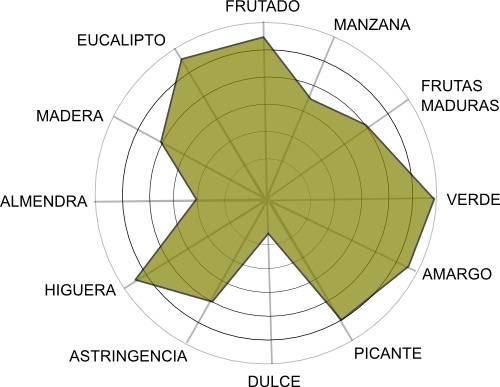 PREMIUM OLIVE OIL WITH CERTIFIED ORIGIN AND QUALITY
All the early harvest premium extra virgin olive oil is cold-pressed from the greenest picual olives harvested in our organic olive grove in Jaén, so it has the CAAE certificate of organic agriculture. In addition, the filtered premium extra virgin olive oil has the quality certificate of the Sierra Mágina Denomination of Origin.
BUY EARLY HARVEST PREMIUM OLIVE OIL ONLINE
One of the advantages of buying premium extra virgin olive oil online directly from the olive grove is that the juice is slowly decanted in the cellar under optimal conditions until it is bottled practically on demand. It is then stored completely away from light and heat, so it reaches your hands in the most direct, pure and natural way possible, preserving its properties better, especially when it comes to unfiltered olive oil, which is much more delicate and sensitive to heat and light. MORE INFO: Unfiltered vs filtered olive oil.
PREMIUM OLIVE OIL IN 5 LITRE AND OTHER SIZES
Early harvest olive oil is normally available in 5 litre plastic (pet), 5L tin and glass bottle with non-refillable stopper. All containers are BISPHENOL A (BPA) free. You can select the SIZE that best suits your needs above next to the checkout button. If you want to combine our different juices (TRADITIONAL, UNFILTERED, ORGANIC…), please see Olive oil set to TRY AND GIVE AS A GIFT.
PREMIUM OLIVE OIL FOR COOKING
You can use premium extra virgin olive oil UNFILTERED for everything, including COOKING stews and stir-fries. We do not recommend using it for frying over 150 ºC, as it contains impurities that can easily burn at high temperatures. However, it is ideal for "dipping bread", on toast, salads or pasta, as it has an intense green flavour, with a slightly fruitier, bitter and spicy hint that awakens the senses. On the other hand, filtered early harvest premium olive oil can even be used for frying at temperatures up to 200ºC, although for this purpose we recommend our 5 litre extra virgin olive oil (traditional or organic) with a better quality-price ratio.
CONSERVATION AND EXPIRY DATE OF PREMIUM OLIVE OIL
Unfiltered premium extra virgin olive oil contains some moisture and impurities from the olives, which oxidise more easily. For this reason, we recommend consuming it within the first 6 months of the year, although if well preserved it can last up to a year. For optimum preservation, it is essential to keep it in a cool place (at less than 20 degrees) and away from light (especially sunlight) to prevent it from decanting. For example, in a cupboard in your kitchen or storage room, it will keep perfectly and maintain all its properties for a longer period of time. Filtered premium olive oil keeps better for much longer, we recommend its preferential consumption between 12 and 18 months away from light and heat.
PREMIUM OLIVE OIL TECHNICAL DATA SHEET
TYPE | EXTRA VIRGIN olive oil of superior category, obtained directly from olives and only by mechanical procedures. VARIETY | Picual REGION | Sierra Mágina (Jaén) – Andalusia. PRODUCTION AREA | The highest area of Sierra Mágina. ALTITUDE | 1.000 to 1.200 metres. TYPE OF CROP | Mostly irrigated. HARVESTING PERIOD | October-November. HARVESTING SYSTEM | Manual harvesting with shaking and mechanical help. EXTRACTION SYSTEM | Continuous system of first cold extraction at less than 27ºC. STORAGE | Stainless steel tanks. AROMA AND FLAVOUR | Green herb with a powerful flavour, somewhat spicy and bitter. FOOD PAIRING | Toast, bread, salads, rice, pasta, fresh fish and all types of raw or semi-raw cuisine. ACIDITY | <0,2º CERTIFICATES | Regulatory Council of the Sierra Mágina Denomination of Origin. PACKAGING | From the month of NOVEMBER. PREFERRED CONSUMPTION DATE | In the first months of the year. HEALTH REGISTRATION: 160000808/J SANITARY REGISTRATION | 160003186/J (ECOLOGICAL) CAAE REGISTRATION | 003347/I (ORGANIC) NUTRITIONAL INFORMATION PER 100 g | Calories 3.700KJ / 900 Kcal. Total fat 100 g (saturated 12 g). Carbohydrates 0 g (sugars 0 g). Protein 0 g. Salt 0 g. ® "DIRECTO DEL OLIVAR" IS A REGISTERED TRADEMARK SOLD EXCLUSIVELY ON DIRECTODELOLIVAR.COM. THANK YOU FOR YOUR TRUST.